Junior Championship Final 1995 – As Seen by 'The Regaeler'
I had been involved with the Gaelic club for about 6 years, but it never really seemed like a "Club". Maybe there is no community spirit in Antrim.The soccer, rugby, hockey and every other team was struggling as well as us. I blame all those McCooey's!
Or maybe it was a lack of club rooms, but I had been used to a closer knit atmosphere, and that was in the city.All of that changed one pleasant night in 1995. In the same way that you are asked "Where were you when Kennedy was shot?"- future generations will be asked "Where were you when we beat the Johnnies in '95?
Let us remember. First things first. The County Board had recently passed a new rule that ALL county finals must be played in Casement Park, so naturally the final was in….Hannahstown. And did I mention a pleasant evening earlier? There is no such thing as pleasant in Hannahstown, as there is always a gale blowing. Some clever Irishman called Beaufort once invented a scale for measuring winds, but he had never been to Hannahstown, the wind is always well off the scale. Like I said, a gale was blowing.aidan mcgovernIt was Antrim against St John's. Younger readers may not be aware of this, and there are always some misguided folk going on about Cargin, but St John's are the Kerry of Antrim football. The crème de la crème, the team. And if you don't believe me, just consider that the St John's team we were to face that night had about 40 odd SENIOR championship medals between them. That's more than some teams ever won!
Now this was the Junior Championship, and St. Comgall's were a genuine junior club. The Johnnies however are a big club, and they had a number of experienced players all reaching the end at the same time, and all ready for one last moment of glory. Some of these players had played in All Ireland finals at Croke Park, never mind Hannahstown. About 8 of them had played for the county team, and please, no jokes about our county team! Mickey Darragh had been a county regular for years, Kevin Gough, Eddie McToal and a host of others. Put it this way, the Johnnies brought champagne with them.
Antrim's St. Comgalls, our wee club, had a decent line up, for a junior club. Gareth McKinney, Barry Drain, Pedro in goal,the McGrattan brothers Peter and Ewan, James Sisk, Addies, Paddy Quinn, (yes really), Aidan McGovern, and up front one Damian Devineteam talk . Now Damian had played for Cargin. The first time I saw him play I thought that milk would turn quicker. And then he got the ball with a half chance of scoring. He could move then alright. And a powerful left foot. Our very own Battistuta.Now Damian looked like, how would you describe him, a bit robust, rotund, like James "Tub" McCartan, the one from the sixties not the son. Less politically correct and sensitive, people would say fat, but I prefer robust. It being a County Final I was hoping to get a good vantage point to view proceedings, but as it was a county final there were no lines-people (all this women's football nowadays) so I ended up running the line.
Maurice Ashe was our manager, and he had the boys ready. But this was St John's, with eight ex -county players. The only ex's we had were on the run from the CSA.The team started well, and the cross field gale always meant it was going to be difficult to be accurate with scoring attempts. We did alright however, and it was nip and tuck. We were doing that well that some of the Johnnies contingent on the line began to get a bit bolshie, and one over- enthusiastic "mentor" was expelled from the sideline.My experience of our own club, and country teams in general, was that they tended to bottle it, or freeze, against the likes of the Johnnies.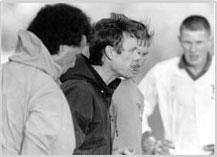 There was no bottling that night. Some of the big name Johnnies players began to lose it, as our boys invented "puke" football long before Armagh and Tyrone, and harried the life out of some of these "names" who had expected a stroll.I now digress. Did you ever watch our club hurlers when they were going? Well they once had an eccentric goal-keeper. Could stop hail stones from going into the net, and then suddenly shout "going wide" as the ball dropped gently into the net.That's what happened in Hannahstown. Just as we were looking good, and St John's frustrated, high ball in, Pedro shouts "wide", everyone relaxes, and the ball drops gently into the net. I always blamed the gale, not Pedro, my old compadre. Honest!
We had perhaps thrown glory away. We were now behind and Damian Battistuta wasn't really at it. But then, he never was, that was his strength.Now everything about the next bit may be exaggerated, but I swear it's all true. Chest height ball played through the middle.winning strike Damian sort of moves, and actually collected it. Then he moved. Rounds his man in a blur and lashes the ball to the net from fully thirty yards, all in one sweet movement like a Phil Mickelson swing. The ball had been kicked out again before the Johnnies keeper finished his dive. Goooooalllllllll screamed the neutral lines-person, alongside Tommy Crilly who was impersonating a whirling Dervish on drugs! I swear to God, in watching GAA for some 46 years, it was as good as I've seen. It just left his foot and the net was bulging.
Or maybe it was the feeling, for the first time really, that this was MY club. MY club were about to turn over an all star Johnnies team. It was the first time I felt that I really belonged. The old Antrim families,( sounds like the Mafia) and indeed it was, the Teggarts, Allen's, McNeilly's, McKees and such-it was always their club, and rightly so. But when that ball hit the Johnnies net the real passion came over me, this wee McCooey, and finally I was a St Comgall's man.Now anyone who has seen me play for St Comgall's may not believe this, but I have a full set of minor, junior and senior hurling championship medals, but that goal was as good as any of those wins with city teams.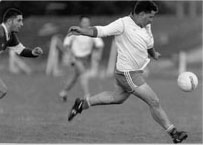 The Johnnies couldn't come back again, and we won. County Junior football champions and beating the Johnnies in the final. It doesn't get any better than that. To their eternal credit the Johnnies gave us their champagne, although they may have had the last laugh there. The champagne became a spray job all over the players, the kit was put in the bag, and when finally removed to be washed, about two weeks later, the jerseys were ruined. Always said champagne was expensive.Maybe I have exaggerated a bit, but I don't think so. There were people in Antrim Town who had given years and tears to the club, playing, supporting, transporting young ones, washing jerseys, collecting money, all for little gain or reward.That night in Hannahstown, and that goal, made it all worthwhile. All of the team and panel performed miracles that night, supporters, mentors, groupies, all played their part, but it was a special goal. Like the Yanks say, it wasn't all over until the fat lady sang.
It's nights like Hannahstown that keep us all going. Come on St Comgall's!