Do you remember the Sixties?
It is interesting to note that most of the players referred to in the following account were being born around the time of the founding of St. Comgalls G.F.C. Paschal Teggart recounts his memories of those individuals who combined to become St.Comgall's most successful footballing side: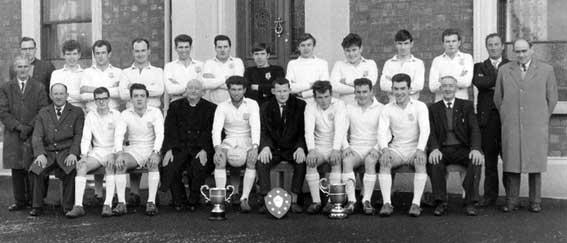 Looking at the photograph of 64/65, the first thought that struck me very forcibly was just how young a team we were. I had left Antrim to work in England in 1965 when I was 21 years of age, and if my recollection serves me correctly we had already won Division 5, Division 4 and Division 3 of the Antrim Football League, losing only one match in the process.
Many of us will remember among the mentors, one Danny Martin of the Martin School of Irish Dancing, and Dan Kennedy, who was a long and loyal servant of the club. Alongside them were Stuartie McCollum and John Allen, both of whom gave great service. The last two mentors were Sam McKeown and Gerry Allen who, previous to this team, were very excellent and strong players.
I think most observers of the St. Comgall's team of 1962/65 would agree that it was a very talented team indeed.
In my opinion one of the best and most talented footballers ever to wear the St. Comgall's all-white colours was Charlie Hargan. Charlie was a superb catcher and runner with the ball and was exceptionally good at short free kicks and we all know the value of a reliable free-taker.
The McNeilly brothers, Eric, Ronnie and Raymond, were three great players. Raymond was probably just about the most talented and was able to kick the ball prodigious lengths and regularly scored points from 50's. Ronnie, off the field, was a thoroughly reserved, respected, likeable gentleman; on the field he was the complete opposite and probably started more rows than all the other team members put together. Eric was a strong, powerful player, and I had the privilege of meeting him in Adelaide in 1986, when I went with Kevin Heffernan's Compromise Rules team, and we spent many happy hours discussing the old home team and the games we played in.
Our Parish Priest at the time was the Fr. Vincent Davey, who was a person I can only describe as being larger than life. Fr. Davey was always very supportive of the Gaelic Football team and helped us in many ways. One of his housekeepers was a certain Mrs. Travers, who was a fanatical supporter of the team. Her son Charlie played prior to emigrating to America. Many was the time, when the going got just a little bit rough, Mrs. Travers would wade in with her umbrella flying!
Brian and Alec McKee were two extremely talented players who made up for their lack of inches by sheer class, speed and guts. Alec Barr was one of the youngest members of the team and was a superb player who could play anywhere.What can I say of Cecil Doole? Now that I mention Cecil I remember he used to get involved in the odd altercation or two. He will probably tell you he was just finishing off an argument. He was a great-hearted player and a player I would rather play with than against.
Chris Johnstone was our goalkeeper, and he was an extremely good one! Like most other members on the team, he was very talented at other games, including table tennis and soccer. I should not really be mentioning soccer in an article about St. Comgall's gaelic football team, but I do remember entering most of our team in a summer soccer competition at Castledawson. The team did very well, but unfortunately we all got suspended. Those were the days of the ban.
We now come to the other three Teggart brothers — Gabriel, Jim and Michael. Well, what can I say about them? Michael must have been a fair player as he was playing for the Senior football team at the age of 15. Jim, they said, could have been the best of the lot but he lacked just a little in application. Gabriel probably was the star of the team, as he played for the Antrim County teams at Minor, Under-21 and Senior level, all within the space of three years.
Then we had the Murray brothers, Laurence and Paddy, who both learned their gaelic football at Garron Tower. Despite lacking in inches the two boys were pound for pound two of the toughest and best players in the business.The McKavanagh set, Harry and Hugh, were also truly excellent players. Harry went on to play for the Northern Ireland amateur soccer team before emigrating, I think, to Canada. Sadly Hugh died in his early twenties.
Jimmy O'Hare was a real terrier of a footballer; he was very quick and an extremely good defender. The last but not least footballer in the 1964/65 team photograph was Frank Haveron. Frank was unique in that he was the only player from Tannaghmore.
Of course we sometimes managed to play the odd banger from Greenmount College just up the road. The two most famous players would have been Jim McCartan, who played for Down,. and Barney McAnespie from Trillick, who went on to play for the Tyrone Senior team for many years.
I have very fond memories of playing at the local carnivals during this period. As this was before the advent of televisions in every home, not to mention drinking at discos, etc., the crowds at the Final matches used to run into their thousand. How we loved to reach the Final and be paraded behind the local band around the field prior to the throw-in. I suppose in our imaginations we felt we were walking in Croke Park on All Ireland Final day.
I have to say that I loved every minute of my time with St. Comgall's Gaelic Football Team. It is one of the few disappointments of my life that I had to leave it all. When reading the National papers I check the selections of the Antrim County Senior team in the hope that I will see a McKee, a McNeilly, a Doole, a Barr and so on, from the old home town club!
PASCHAL TEGGART