As is often the case, circumstances combine to provide the opportunity for the re-igniting of a slumbering ember, and such was the nature of events in 1943. Why the William Orr's had stopped fielding in 1936 no-one today exactly knows, but there were obviously people about who still cherished the gaelic ideal. All that was needed was the breeze to re-kindle the flame. Such an event took place in 1943.
The late Paddy Smyth recounts his memory of that time:

As a young man arriving from Cavan to take up employment in Halls Hotel, I was soon on the look-out for the social and physical outlet which gaelic football provided. At that time of war there had been a sizeable influx of people from other counties in Ireland who had migrated to Antrim for the work which was available in the various military depots at Greenmount, Springfarm, the Old Showgrounds (beside the railway station), Nutts Corner and Langford Lodge. I had occasion at that time to call with Paddy Feeney, a former U.C.D. student who resided in digs in Castle Street, and conversation would invariably come round to playing football. For a time the two of us threw in our lot with the Tír na nÓg club. Eventually, after other conversations with interested Gaels, it was decided to hold a meeting for the purpose of re-forming a club in Antrim, and this duly took place on the 11th July 1943.
Elected to the chair at that meeting was the Rev. Fr. McCloskey. Hugh Grimley took the position of Vice-Chairman, and over subsequent years was to give much of his time and talents to promoting both our games and other cultural activities. Gerald Molloy was voted in as Treasurer and Paddy Feeney took on the job of recording our efforts. Making up the rest of the Committee were myself, Michael Bradley, James McGlynn, Matthew Clarke, Joseph Regan, Robert McErleane and James Liddy.
Having established a working group, our first job was to acquire the necessary kit to take to the field, no mean task in a time of war and ration books! Nevertheless by dint of gentle persuasion we were able to gather up enough coupons to approach Clarkes of Castledawson, who had clothing workshops. There we managed to obtain a set of white 3/4-sleeved shirts, which we were able to change to red in a home-made dyeing workshop on Oriel Road.
Over a period of time we slowly procured (with the proceeds of a raffle) the necessary equipment to make ourselves presentable in contest. Interestingly, in an early challenge match against Kickhams of Creggan, no less than 14 different counties were represented in the line-out. In those early days there were many difficulties to be overcome, including transport to the various South-West venues. In addition, getting a suitable playing pitch was a matter of some investigation, but these teething problems were soon overcome by enthusiasm, and an arrangement over a playing pitch was agreed with Mr. John Lawlor, who permitted us the use of a field he held on the Ballymena Road.
Early efforts at fund raising proved quite successful, mainly through the holding of ceilis in the school. The first of those, on the 28th July 1943, netted the princely sum of £8.10.0d in door receipts, £2.4.10d from the raffle, and 9/2d from the sale of minerals! Many ceilis were held subsequently both in the Convent School (Wilderness Lodge) and in Halls Hotel and the Massereene Arms, and these proved very successful both in raising much-needed money and as a social event.On the playing front we continued to turn out against other South-West teams without ever collecting an array of trophies or medals, but winning friends and obtaining some great enjoyment. Among the playing members in those early days were the Magee brothers, Philip and Isaac; the Allen brothers, Tommy and Joe (and later John and Harry); Cathal and Kevin Byrne, Joe and Tony Lavery, and others too numerous to mention. A measure of our steady improvement in the necessary skills was a run of 12 matches without defeat, which we put together in the late 40's.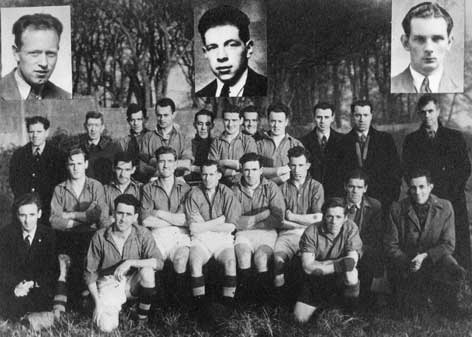 Lining out for Antrim against Cargin on March 26 1944 were: Goals: P. McCormack; full-backs: T. Gallagher, T. Allen and M. Duffy; half-backs: C. Marquess, M. Kennedy; centre-field: J. Dillon, P. Smyth; three-quarters: P. McNicholl and P. Feeney; forwards: John Allen, T. Horan, P. O'Hare. After a close tussle with the lough shore men, we were defeated by the narrowest of margins, 0-15 to 0-14.

Off the field we continued to develop cultural activities. A great success over a period of years was the combined Irish language class and ceili club, which we held regularly. Joe Courtney of Hamilton Street, Belfast, was the teacher who kept us at our desks from 8.30 to 10.00, and then released us to birl around the floor for an hour or so after that. Many the nights "craic agus ceol" was to be had in the old schoolhouse of Wilderness Lodge, and sure, after all, wasn't it for sport of many kinds that the G.A.A. was founded and through which it has served the community down through the years?

Pádraig MacGabhann