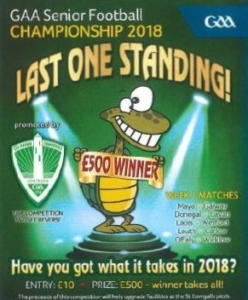 Remaining contestants selections for the next round.
Kirsten McGarell Cork
Liam Connolly Dublin
Joe McCavana Kildare
Joe McCavana Donegal
Alice McAuley Roscommon
Kevin McLarnon Kildare
Raymond Flanagan Roscommon
Malachy Conway Down
Erin Slane Roscommon
Stephen Graham Roscommon
Nuala O'Shea Cork
John Moran Kildare
John Moran Kildare
Liam Taggart Roscommon
Sarah McGarry Meath
Arthur McGarell Dublin
Michael McBride Roscommon
Manuel Valliday Down
Neil McDonnell Kildare
Aela O'Boyle Roscommon
Paddy Quinn Kildare
Glen Parker Down
Conor Devlin Donegal
Garvin McKnight Down
Dean Gannon Roscommon
Jackie Johnston Roscommon
Paul McErlean Dublin
Eugene McGrenaghan Roscommon
Liam Berry Roscommon
Eamonn Crilly Roscommon
Declan Sampey Kildare
Conor Sampey Roscommon
Enda Muldoon Roscommon
Sean Rafferty Down
Richie Leahy Meath
John Brady Roscommon
Terry Reilly Roscommon
Conor Johnston Roscommon
Paddy Nugent Dublin
Good luck to everyone (except those on Down)!!!!