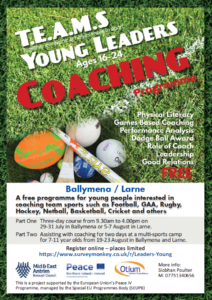 TEAMS Young Leaders Programme  (16 to 24 years old)
To register for T.E.A.M.S. Young Leaders Coach Education Programme being delivered in partnership
by Otium Leisure Consultancy and Mid and East Antrim Borough Council click on the below link.
https://www.surveymonkey.co.uk/r/Leaders-Young
This programme is FREE and open to all young people aged 16 to 24 years old who live in the council area
with an interest in coaching team sports (Football, Rugby, Hurling/Camogie, Gaelic Football, Hockey, Cricket,
Netball, Volleyball, Basketball, and others.) No previous coaching experience necessary.
Coaching Modules: Performance Analysis, Games Based Coaching, Physical Literacy,
Dodge Ball Coaching Award Role of the Coach/Leadership, Safeguarding Children Certificate & Good Relations.
Practical: All participants will get the chance to put the theory into practice through two days
guided coaching experience at a multi-sports camp for children aged 7 to 11 years old.
Dates
Coaching Workshops: 29-31 July 2019 in Ballymena or 5-7 August in Larne
Multi-sports camp: 19-23 August 2019 in Ballymena or Larne
Each participant must complete either of the 3-day workshops plus complete 2 days guided coaching at one of the multi-sports camps.