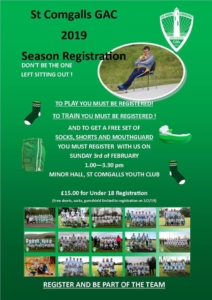 Our club registration day is Sunday 10th February from 12:45pm until 3:30pm it will be held in the minor hall at St Comgalls Parish Center – This is for all playing and non-playing members.
If you are not registered you cannot play and you cannot train.
Juveniles will be provided with shorts, socks and gum shields if they register on this day.
The coaches from our various teams, and committee members will be in attendance to help and answer any questions anyone may have.
Attached are the various forms.
Adult Membership Form 2019 Senior Membership Form 2019 Youth Membership Form 2019